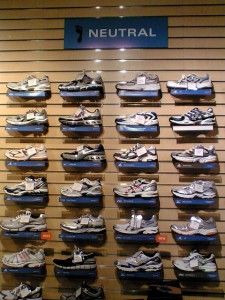 When you exercise, you are going to likely choose footwear that will help that activity. While you can't own footwear for every activity, the following can help you make better choices based upon how the shoe is meant to function. First, get someone to measure your feet for the correct size, find a brand that fits your foot type, and get evaluated for orthotics or foot beds.
Running Shoes are designed to take impact at the heel and then flex at the forefoot in the push off phase of motion. If you run or walk these are a great choice. However, if you are lifting weights or performing indoor exercise such as classes, not as good a choice because they do not provide lateral support, which can lead to ineffective movements and foot problems.
Walking shoes perform very similarly; yet have a little more shaved off the heel portion to promote a rolling motion during walking. They also will have slightly more lateral support than a running shoe, yet give up some of the cushioning in the heel area because you are not expected to run in walking shoes.
Cross Training Shoes are about 1/2 way between a running shoe and a basketball shoe. They have good lateral stability and support. This makes them ideal indoor athletic shoes because they function from treadmill walking to weight training. You can run in them occasionally as well.
Can you get by with one pair of shoes? Like all other fitness factors, that depends upon your activity mix. If you run more than once per week, running shoes are best for that specific activity. Indoor exercise is best in cross training shoes. Because most people have some combination of walking/jogging with indoor exercise, switching between running and cross training shoes for the specific activity will likely lead to happier feet!
Social Share