Custom Footbeds/Orthotics/Gait Analysis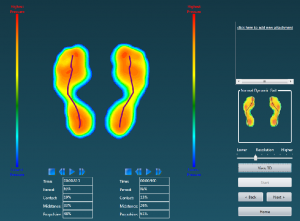 Whether you suffer from heel pain, plantar fasciitis, aches in your knees, low back pain, or simply want to exercise and perform better, the CCHSS approach to your feet is comprehensive and guaranteed to improve your results and foot comfort.
Our unique process gets superior results:
Measurement of your foot for important variables such as length, width, arch type/length, instep type and height, foot flexibility and general anatomy;
Computerized mapping and analysis of basic stance and gait compared to anatomy;
Treadmill gait analysis using the OptoGait system to detect further issues and compare R to L in gait;
Analysis of current shoe type for support, flexibility and fit.
Exercises for foot and ankle stability, flexibility and strength.
After the assessment, we will review the recommendations with you including recommendations on footwear, activity modification, lacing patterns, socks and in-shoe support. We provide a range of options based upon need that include supportive insoles, gel-based orthotics, and two levels of fully customized, medical orthotics. We make orthotics for every activity from walking to snow sports.
For more information, please email CCHSS or call 303.596.6519